Chatbots could make a difference these days. And the Amsterdam University of Applied Sciences (AUAS) knows how. In an astonishing 6 weeks of time, chatbot Robin was released on their website answering student questions. For this chatbot project we used the Oracle Digital Assistant.
The AUAS is the largest and one of the oldest universities in The Netherlands. More than 50,000 students are enrolled at the AUAS, divided over 6 faculties. To deal with the current global pandemic (COVID-19) and the guidelines from the National Institute from Public Health and the Environment (RIVM), the university wanted student support to continue for new and current students. Like many others, the university was forced to shut down its student campus service desks and most administration staff has been working from home.
While the physical service desks were closed, other channels like WhatsApp, email and phone remained available, which lead to unusual heavy traffic. To provide some sort of relief for these channels, the AUAS decided to automate their frequently asked questions by means of a chatbot.
The team first aimed to incorporate all their 72 FAQ questions, but later decided that it was better to focus on one topic first. Tuition fee questions were given priority.
Many different teams were involved during this chatbot project consisting of UX specialists, communication experts, web developers, administrators and registrars of the Student Administration. The team was supported by chatbot consultants from CY2 and Oracle.
After a period of intensive configuring and testing, we decided to go live with the chatbot. Robin was able to lower the workload of employees by answering frequently asked questions and redirecting students to the WhatsApp Phone or TOPdesk application if further assistance was required. Because the new generation of students is likely to offer feedback, we added a feedback option to the provided answers. This helps us to improve Robin over time.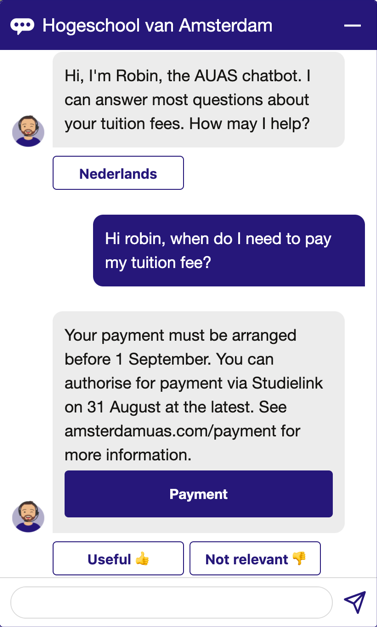 Another nice feature that was implemented was Robin's look. Three different faces were created for Robin to make each visit to the website more personal and unique.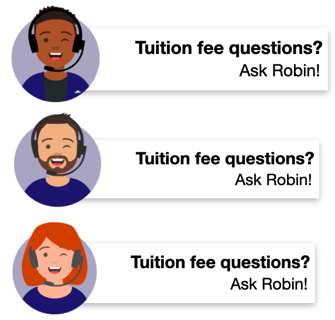 Being able to deliver such a project within this time frame takes careful planning and execution. Yes, technology-wise we can set up a FAQ chatbot within a couple of hours. However, we can't deny we have to deal with different departments and most issues are by nature organizational. Getting agendas to match for discussions is one thing, but decisions regarding communication, look and feel, coding, GDPR compliancy, security, website integration and maintenance take more time.
So congratulations, AUAS in succeeding in this remarkable achievement! It has been nice to embark on this project with you.